Stefan Engeseth is really a star and brilliant on stage! The audience loved his Sharkonomics lecture!
Lauri Sipilä, CEO, Finnish Marketing Association
We trebled our turnover after a lecture on Sharkonomics.
Juhani Heikkilä, CEO, Bite AB

600 car dealers in standing ovation. Read more.
Guest Professor Stefan Engeseth lecturing Sharkonomics at Gulltaggen.
Stefan Engeseth is one of Europe's most creative business thinkers and a top-ranked speaker. He is known for delivering inspiration in areas such as trends, leadership, Internet/social media, marketing, branding, sales and creativity/innovation (example case Ikea).
Based in Stockholm (Sweden), Stefan has held lectures at Ericsson (HQ), Disney Nordic (HQ),  TEDx, Gulltaggen, Audi, VW, Roche, more exampels.
In USA (tour), Amsterdam, Dubai, Mumbai, Finland, Singapore, Prague, London, Brussels, New Zealand, Australia and all over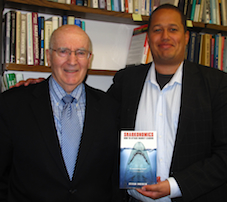 Scandinavia. He has shared the same platform with the likes of Sir Richard Branson, Chris Anderson, Alexander Osterwalder, Guy Kawasaki, Guy Clapperton, Sir Tim Berners-Lee as well as Nobel Peace Prizewinners.
Speech Topics:
Sharkonomics – How to attack and defend businesses. Speaker presentation: English and Swedish (doc). Examples of attending companies. This lecture will be adopted into the topic of the seminar. Real shark behavior will be used to show how to be more successful in your fields of business.
Marketing. Branding and Social media.
ONE – A consumer revolution for business
The Fall of PR and the Rise of Advertising
Detective Marketing™
Workshops and action-workshops
For more information, contact Stefan Engeseth.
Email Stefan
Download speech presentation (PDF).
Thank you so much for these two amazing days. Stefan is magical as a moderator, he created a truly awesome atmosphere.
Global Business Control Manager, Jonas Lydén, H&M
Finally something new and fresh! Straight to the point!
Industry Manager Tonje Elisabeth Aaroe, Google
ReCoTech / Slush Meetup was a huge success. Stefan Engeseth keynote was great opening for the day and its stimulated our guests just on right mindset.
Project Manager, Real Estate Investing, Anssi Salonen, RAKLI ry
Stefan Engeseth is different. His theories are just as simple as they are brilliant, but above all they are innovative. Stefan made us think differently, think correctly, and think ahead.
Managing Director Anders Erlandsson, Silvent
Warm thanks for a superb lecture!!!!!!
CEO Kristina Cohn Linde, The Marketing Association in Gothenburg, MiG
Stefan's Sharkonomics speech was presented in a very charismatic way. To draw parallels between corporate and sharks behavior created discussions and a new way of thinking. Stefan offered a lecture filled with energy, creativity, experience and participation from the audience. Something I can highly recommend for upcoming events!
Marketing Manager Christoffer Blomberg, The Swedish American Chamber of Commerce in San Francisco and Silicon Valley
The workshop was very successful, both encouraging and informing the students.
Euan Robertson, Subject Director, Advertising Senior Lecturer, Massey University, New Zealand
His understanding of the modern consumer market is unparalleled and his thoughts on improving brand-consumer relationships are revolutionary to say the least.
NIT University/Pragyan.org
The best-evaluated speaker: Stefan lighted up the atmosphere and brought in energy and fun, as well as impulses for later discussions in the lobby.). The form was excellent… Amazing way of presentation, interesting and funny, astonishing work with the audience.
Retail Summit in Prague
An excellent moderator.
Per J Andersson, Journalist, Vagabond Magazine
I have never seen such a high degree of interactivity and network building among conference participants! Stefan is inspirational both as a lecturer and as a moderator.
Henrik Lantz, Project Manager, Bonniers
Stefan Engeseth 'rocked it' at last nights lecture on his thought provoking Sharkonomics speech. I liked your combination of humor and directness when it came to looking at an opportunity or in your parlance, shark food.
Eric Snelz, President, The American Marketing Association, Phoenix Chapter
Successful agencies need to be in a constant attack mode. We have a lot to learn from sharks and Stefan Engeseth is a perfect guide for that. Just jump into the water with Sharkonomics, it'll pay off.
Eka Ruola, CEO & ECD, hasan & partners
Author, consultant, speaker and Guest Professor. Stefan's ideas range from innovative and future-oriented to bordering on far-fetched. Yet, they all build on the universal truth that without innovation and visions, companies will not grow in today's highly competitive business world. The question is, how far are you prepared to go?
Over the years, Stefan Engeseth has worked as a consultant with internationally companies and Fortune 500 corporations. Often he is described as on of the world's leading experts and speakers in his fields (well he like to say its only common sense).
His lectures have become extremely popular because they are stimulating yet easy to take in and use. He has held over 500 lectures and workshops internationally at corporations and academic institutions. He has also taken part in the Öresund Consulate's reference group on the Öresund bridge between Sweden and Denmark one of the largest projects of its kind in Europe. He write articles for international business magazines.