Keynote speaker Stefan Engeseth.
Contact/info: Stefan Engeseth E-mail
. +46 704 44 33 54
Speech presentation: Download (PDF).
Info Sharkonomics speech (PDF).
Examples of attending companies.
All his life he has seen patterns of the future and been called the 'Creative Futurist.' Over the last 20 years, he has spotted and seen the future over and over again. He is often described as one of the world's leading experts and speakers in his field.
Lectures at TEDx, Ericsson (HQ), Disney Nordic (HQ), Audi, VW, Porsche, Roche, AAK.
Based in Stockholm (Sweden), lectured in USA (tour), Amsterdam, Dubai, Mumbai, Singapore, Prague, London, Brussels, New Zealand, Australia and all over Scandinavia. He has shared the same platform with the likes of Sir Richard Branson, Dame Anita Roddick, Philip Kotler, Sadia Kibria, Alexander Osterwalder, Guy Kawasaki, Sir Tim Berners-Lee as well as Nobel Peace Prizewinners.
Speech Topics:
Sharkonomics – How to attack and defend your business in today's disruptive digital waters.
Sharkonomics is delivered in short lectures, and in full days workshops (attack and defense strategies).
Topics: Sharks are world champions in adapting . Sharkonomics is adapting topics into organizations and corporations where needed. 
Trends: As a Creative Futurist Stefan believes it's important to not only look at trends but create them; unique models to spot and attack the future.
Creativity: How to see what others do not see, and understand things before the competition.
Innovation: Move or Die is what Sharkonomics is all about. In nature adaption is not an option. Learn from nature, how to innovate. How to innovate like a Shark.
Leadership: Sharkonomics bites into the future of leadership.
Internet/social media: "The book ONE is about one of today's hottest topics – how companies can benefit from the energy of the consumer." Internet World.
Digitalization: As a Keynote speaker in AI and other tech conferences, Stefan can create a sense of urgency in digitalization for any business field, by showing the potential business opportunities.
• How great AI could turn reality upside down.
• Solving the future of AI.
This topics can both be delivered as keynotes and workshops.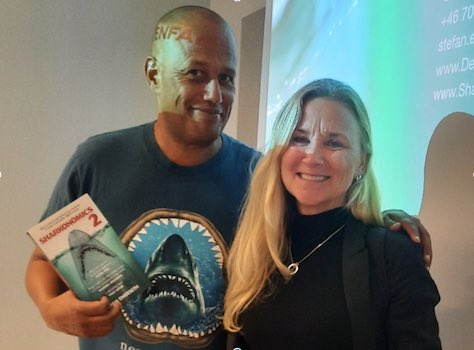 Stefan, You were absolutely brilliant as a inspiring speaker in the talents Vattenfall Digital Talent Program! The energy level in your proactive workshop was high all day. Both with challenging exercises as well as a well balanced agenda. Thanks for sharing all your fruitful ideas/experiences supporting our trainees to grow!
Anna Appelgren, IT Governance/HR/Internal Communication, Vattenfall
The Best Lecture I've Heard in My 47 Years in Rotary.
Sten R Andersson, Rotarian
World class! A powerful inspirational speaker and a pure business genius!.
Magnus Serratusell Wallin, Marketing Manager, PE Accounting
Stefan Engeseth is really a star and brilliant on stage! The audience loved his Sharkonomics lecture!
Lauri Sipilä, CEO, Finnish Marketing Association
Stefan Engeseth! Thanks for your excellent Keynote and thanks for being part of the Event. You did a fantastic and really engaging shark angle speech, in a very clever digital setting at Oslo Big Data Day.
Stefan Petersson, Partner, Investor & Company Builder in Xplorico
A fantastic lecture by Stefan Engeseth.
Eva Klevås, Past President, Rotary Western harbour
Thank you so much for these two amazing days. Stefan is magical as a moderator, he created a truly awesome atmosphere.
Global Business Control Manager, Jonas Lydén, H&M
We trebled our turnover after a lecture on Sharkonomics.
Juhani Heikkilä, CEO, Bite AB

600 car dealers in standing ovation (Audi, VW, Porsche…) Read more.
Finally something new and fresh! Straight to the point!
Industry Manager Tonje Elisabeth Aaroe, Google
ReCoTech / Slush Meetup was a huge success. Stefan Engeseth keynote was great opening for the day and its stimulated our guests just on right mindset.
Project Manager, Real Estate Investing, Anssi Salonen, RAKLI ry
Stefan Engeseth is different. His theories are just as simple as they are brilliant, but above all they are innovative. Stefan made us think differently, think correctly, and think ahead.
Managing Director Anders Erlandsson, Silvent
His understanding of the modern consumer market is unparalleled and his thoughts on improving brand-consumer relationships are revolutionary to say the least.
NIT University/Pragyan.org
The best-evaluated speaker: Stefan lighted up the atmosphere and brought in energy and fun, as well as impulses for later discussions in the lobby.). The form was excellent… Amazing way of presentation, interesting and funny, astonishing work with the audience.
Retail Summit in Prague
I have never seen such a high degree of interactivity and network building among conference participants! Stefan is inspirational both as a lecturer and as a moderator.
Henrik Lantz, Project Manager, Bonniers
Stefan Engeseth 'rocked it' at last nights lecture on his thought provoking Sharkonomics speech.
Eric Snelz, President, The American Marketing Association, Phoenix Chapter
Thank you Stefan for an amazing workshop on the importance of knowing how to attack, and or defend with Sharkonomics. Extremely relevant these days when all companies needs to transform to adopt to new consumer behaviour.
Hanna Riberdahl, CEO, The Association of Swedish Advertisers
Stefan Engeseth, has one of the smartest strategic minds in global business and a unique ability to simplify core ideas!
William Shepherd, @BrandOneCulture
Background
Author, Keynote speaker, Creative Futurist, consultant, shark diver and Guest Professor (NYU Prague). All his life he has seen patterns of the future and been called the 'Creative Futurist.' Stefan's ideas range from innovative and future-oriented to bordering on far-fetched. Yet, they all build on the universal truth that without innovation and visions, companies will not grow in today's highly competitive business world. His lectures have become extremely popular because they are stimulating yet easy to take in and use. He has held over 1.500 lectures and workshops internationally at corporations and academic institutions.
After successfully writing four books including 'One' and 'Sharkonomics,' which has been translated into several languages, he keeps uncovering patterns where few are looking. Patterns that can change how we live and challenges the status quo.
Besides diving and speaking, Stefan is also the founder and CEO of Detective Marketing – a consulting firm that helps companies around the world find new business opportunities in areas such as strategy, business development, and trendspotting.